DTS was recently featured in HSRA magazine!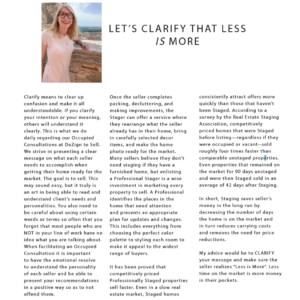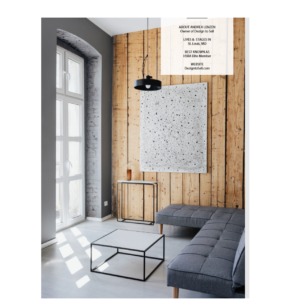 We are thrilled to announce that DeZign to Sell was recently featured in January 2020 issue of HSRA magazine!
Clarify means to clear up confusion and make it all understandable. If you clarify your intention or your meaning, others will understand it clearly. This is what we do daily regarding our Occupied Consultations at DeZign to Sell. We strive in presenting a clear message on what each seller needs to accomplish when getting their home ready for the market. The goal is to sell. This may sound easy, but it truly is an art in being able to read and understand client's needs and personalities. You also need to be careful about using certain words or terms so often that you forget that most people who are NOT in your line of work have no idea what you are talking about. When facilitating an Occupied Consultation it is important to have the emotional resolve to understand the personality of each seller and be able to present your recommendations in a positive way so as to not offend them. Once the seller completes packing, decluttering, and making improvements, the Stager can offer a service where they rearrange what the seller already has in their home, bring in carefully selected décor items, and make the home photo ready for the market. Many sellers believe they don't need staging if they have a furnished home, but enlisting a
Professional Stager is a wise investment in marketing every property to sell. A Professional identifies the places in the home that need attention and presents an appropriate plan for updates and changes. This includes everything from choosing the perfect color palette to styling each room to make it appeal to the widest range of buyers. It has been proved that competitively priced Professionally Staged properties sell faster. Even in a slow real estate market, Staged homes consistently attract offers more quickly than those that haven't been Staged. According to a survey by the Real Estate Staging Association, competitively priced homes that were Staged before listing – regardless if they were occupied or vacant – sold roughly four times faster than comparable unstaged properties. Even properties that remained on the market for 90 days unstaged and were then Staged sold in an average of 42 days after Staging. In short, Staging saves seller's money in the long run by decreasing the number of days the home is on the market and in turn reduces carrying costs and removes the need for price reductions. My advice would be to CLARIFY your message and make sure the seller realizes "Less is More". Less time on the market is more money in their pockets.